Head Chef Amber Doig explores her passion for Mexican cuisine by presenting 7 weeks of her favourite regional specialties that inspire her cooking today. Find out more >
There is always something going on at The Butler!
From Golden Hour Spritzing to celebrating dates like Mother's Day and New Year's Eve, check out our calendar of events below plus head to our Bulletin to stay up to date with the latest Butler news!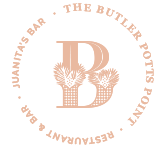 Kitchen | We Need Your Help to Save The Butler's Iconic and Historic View
Save The Butler
Third.i Development Group have proposed a seven story apartment building which threatens The Butler Potts Point restaurant and their iconic Sydney Skyline view. Click through to find out how you can help save us from closing.