The Butler Sydney
Contact Us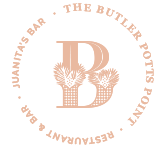 A Hidden Oasis
The Story
Nestled amongst the backstreets of Potts Point, an eclectic oasis lies waiting. Exotic themes enclose the dining area, a forest-like garden consumes the outdoors, various textures of foliage complement the original sandstone walls and a twist on the traditional colonial influence is infused throughout.
Panoramic view of Sydney city skyline from the terrace, the flavoursome menu is accompanied by an extensive wine list and delicious cocktails.
The Butler Potts Point honours historic 'Butlers Restaurant' that occupied this same site many years ago, paying tribute to its original structure, food and service style with a fresh flair.
Virtual Tour
Follow us