Save The Butler ~ Overdevelopment threatens your historic Potts Point restaurant! Find out more >
Pay tribute to one of Victoria Streets most famous former residents… Juanita Nielsen
Juanita's Bar pays tribute to an iconic and influential figure in our history.
The bar is named after one of Victoria Streets most famous former residents, journalist Juanita Nielsen. Juanita's determination through activism against greedy developers in the 70's saved the very building The Butler and Juanita's now calls home, along with the historic terraces next door from demolition.
Her efforts led to her disappearance, which remains a mystery to this day….
Sitting at street level, Juanita's bar is a private nook where you can enjoy bar snacks and cocktails, pre-dining drinks or you can hire the space exclusively for events. The interior is made up of sandstone walls, fresh timber, rattan finishes and a fireplace, complimented with abundant tropical plants.
The menu follows suit of The Butler and dishes up Ibero-American bar food, accompanied with seasonal cocktails and a carefully selected wine list.
Opening Hours:
Thursday: 5pm – 10pm
Friday & Saturday: 2pm – 11pm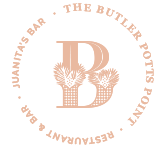 Whats On | Juanita's Cantina will be popping up at The Butler every Wednesday from 4pm-9pm in January to celebrate Delicious Month Out
Juanita's Cantina Pop Up
Exclusively for Delicious Month Out, Juanita's Cantina will pop up at The Butler Potts Point on Thursdays from 4pm-9pm, kicking off on Cinco De Mayo.