APPLEJAB | Our freedom to enjoy together time is only a jab away. Find out more >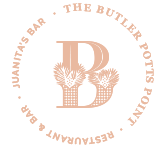 The Butler
in Bloom
Our second annual instalment of #ButlerInBloom has wrapped up!
It was an amazing two whole months dedicated to everyone's favourite season!
1st Oct 2020 – 30th Nov 2020
Butler in Bloom Wrap 2020
What a buzzing couple of months at The Butler for this year's Butler in Bloom! Now the dust has settled, we wanted to reflect on the past few months. Together we indulged in 2,477 Royal Doulton desserts, sipped our way through 2,027 Lillet spritz, and dined in style in our floral oasis!
The number one choice of dessert was the Chocolate semifreddo with espresso anejo caramel, cocoa masa streusel & Manuka honey #yum!
A big thank you to everyone who joined us for The Butler in Bloom!
We can't wait to do it all again next year.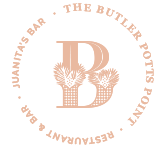 News | A five step guide to making your food a work of art with Head Chef of The Butler, Amber Doig
The Art of Food Presentation
Spring is all about vibrant flavours & colours so we've teamed up with Royal Doulton for this years #ButlerInBloom campaign to present an array of beautifully decorated desserts and Amber has shared her secrets on how to plate them.