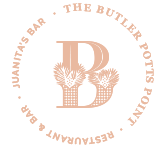 …is back again for the fifth year in a row!
Get ready for a spring/summer transformation at The Butler! Enter our secluded oasis amidst the vibrant energy of Potts Point, settle down at our pop-up Please & Thank You bar, and savour a delightful spring food and cocktail menu.
This spring/summer.

Make A Booking
Spring is here, and Potts Point is coming alive with warmer weather and beautiful blooms!
As temperatures rise and Sydney blossoms, The Butler welcomes you to shed those winter layers and join us for a relaxed meal, great vibes, and the exciting transformation of Juanita's Bar into The Please & Thank You Bar.
Keep reading below to discover all that The Butler In Bloom has to offer.
Please & Thank You Bar
Juanita's Bar is turning into a pop-up cocktail bar, soon to be known as the Please & Thank You Bar!
Inspired by our much-loved cocktail the Please & Thank You, the space boasts of refreshed interiors in hues of pink that perfectly complement an incredible new mural by local artist Vynka Hallam. Expect a new cocktail menu and delightful nibbles by Head Chef Amber Doig, making it the perfect spot to unwind after a long day or catch up with friends over the weekend.
Food & Drinks
Delight in the vibrant flavours of our new spring menu. Our talented Head Chef Amber Doig, has picked the best produce that highlights the essence of the season, with dishes like Ōra King salmon with scampi caviar, coconut aguachile & nasturtium oil, Colombian cheese empanadas with charred habanero orange salsa and king prawns with pipal mole, pickled red onion & pepita's.
The cocktail menu has been cleverly crafted by RAFI Bar Manager Cameron Freno, ideal for sipping either on their own or paired with nibbles. Of course the Please & Thank You cocktail is on offer, made with Glendalough Rose Gin, Fiorente Elderflower, grapefruit, lychee, lemon and vanilla.
Meet The Artist: Vynka Hallam
Vynka is a self-taught artist whose work celebrates exaggerated colours and perspectives with exposed brush marks and paint drips, highlighting the handmade nature of the work.
Inspired by personal travels, experiences and memories, each piece sparks connection and celebrates the satire and originality of Vynka's art.